Off Broadway On Flora
Air Play: Postponed
Details
We regret to announce that due to a malfunction of the fire suppression system in the Wyly Theatre affecting its mainstage, Potter Rose Performance Hall, the Air Play performances scheduled for May 25 – 27 have been postponed. We are working to reschedule the performance to another date and will be in touch once the new date is confirmed. Please be advised that no refunds will be offered until the new performance dates are announced. Patrons should retain their current tickets and parking passes, if ordered, until further notice.
"AIR PLAY holds the whole audience in the palm of its outstretched hand. A winning combination of visually stunning sculptures and cheeky but heartfelt storytelling that keeps both adults and children enthralled."
Ride the wind and dream with Air Play, a modern spectacle that brings to life the very air we breathe. Flying umbrellas, larger-than-life balloons, giant kites floating over the audience, and the biggest snow globe you've ever seen will make you gasp in wonder and laugh until it hurts.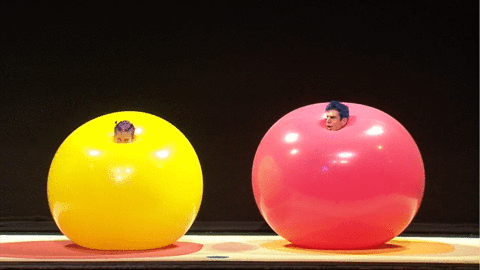 Air Play is a circus-style adventure of two siblings journeying through a surreal land of air, transforming the ordinary into objects of uncommon beauty. Fabrics dance in the wind, balloons have a mind of their own, confetti turns into the night sky, and an enormous canopy of hovering silk forever alters their future.
The creation of husband & wife team Seth Bloom and Christina Gelsone, Air Play merges their circus and street theater performance art with the sculptural artistry of Daniel Wurtzel. With visual images seemingly sewn from the sky, this poetic ode to childhood will enchant and electrify the young and young at heart.
Series
This production is part of the following series: